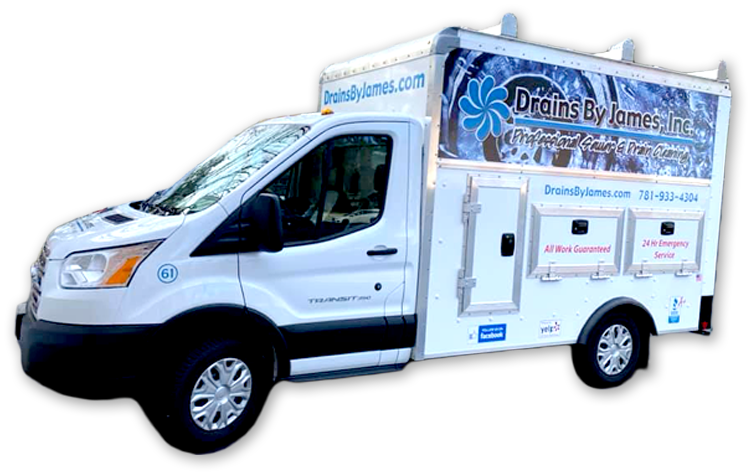 The Top Provider of Drain and Sewer Cleaning
IN WILMINGTON, MA, AND THE SURROUNDING AREAS
Having trouble with your drains? For fast, reliable and affordable drain cleaning services in your area, call Drains By James Inc today at (781) 933-4304. Local residents and businesses rely on Drains By James Inc for all their drain needs and so can you. We look forward to welcoming you as a customer and being your preferred company for drain and sewer cleaning in Wilmington, MA, and the surrounding areas.
As our name suggests, Drains By James specializes in all things drain-related. We address a wide range of drain service needs, ranging from routine cleanings to emergency drain situations requiring immediate attention. For your added convenience. we're available 24 hours a day, seven days a week for emergency situations related to your drains or sewer lines.

Featured Services We Offer
We have expanded our services to more than just sewer and drain cleaning. Drains By James offers CIP lining services, which is a pipelining service to put a pipe inside of an old pipe, without having to excavate and replace an existing pipe. This job will save you thousands of dollars, and no excavation and landscaping work is needed. Our team also provides an inversion and patch repair that quickly patch holes and cover rust-damaged areas throughout the interior of the piping. Call us today to inquire about our services.
Serving Residential and Commercial Clients
We provide residential and commercial services throughout our service areas, which include:
Honest, Clean & Reliable Drain Cleaning Company
Drains by James, family owned and operated, has the expertise and dedication required to handle all of your drain cleaning needs. We proudly serve Eastern Massachusetts, Boston, and the North Shore. Our team of professionals is dedicated to providing you with quality workmanship that will get the job done right the first time.

what our customers are saying

Great experience with our 100 year old house trap replaced with Mark and Brendon. They are on time, courtesy, very professional, and patient to answer all my questions. Could not say enough thanks to them. Definitely recommend them to handle any drain issue! House is back to normal now. Very happy!

First time with Drains by James. Easy to get service and response. Arrived within 2 hours for a clogged sink that my tenant poured into the kitchen sink. Mike the plumber took care of the issue quickly and most importantly communicated with me over the phone of the repair. I'll call them again and make them my go to guys.

Just had my drain cleared and could not be more satisfied with their service. The guys were very professional, clean and very polite. Answered all our questions. Would highly recommend Drains by James
Contact Our Local Team Today
Don't let sewer or drain issues turn into emergency situations. At the first indication of a problem, give us a call. If there's nothing major to worry about, we'll let you know, If additional services are needed, we'll recommend an appropriate solution. Contact Drains By James today to schedule your appointment or request urgent assistance.